2_Implementation of Y-AIR
Launched in 2013, the concept of Y-AIR (AIR for Young) is an initiative that aims to create an environment granting easier access to artist-in-residencies (AIR) for art university students and young art graduates, implemented with the understanding and support of various art university professors. The concept of this initiative is being developed through collaboration between the micro-scale Youkobo Art Space and macro-scale universities of art. The initiative is expected to contribute, through trial AIR experiences for the participants, not only to the fulfillment of artists' creative activities as regular citizens, members of society and internationally-minded individuals, but also to the provision of an essential place for AIR within the education programs of art universities, thus establishing them as vessels for society.
===
Youkobo Y-AIR Studio Program
This program was initiated in 2016, based on the Y-AIR concept. As a collaborative venture between AIR and art universities, the program is focused on the support of recent art university graduates, providing two Tokyo-based artists with six months of studio time at Youkobo to carry out self-directed activities. During this period, in addition to production time in a shared studio, it is expected that the two selectees will gain opportunities to join critiques by invited guests, present work in exhibitions, and build communication skills through active exchange and dialogue with artists and researchers joining the Youkobo AIR program. Also included in the scheme is the opportunity to produce and present work during a six-week stay in London at the studios of the Associate Studio Program run by Central Saint Martins, the partner institution of the Youkobo Y-AIR Studio Program.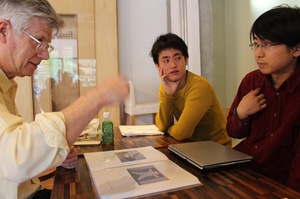 2016 
The program will take place for six months between April and September, in collaboration with Tokyo University of the Arts.
Takahashi Horiuchi(residence period in London: May/June 2016)
Ryunosuke Goji (residence period in London: June/July 2016)
===
London/Tokyo Y-AIR Exchange Program
This is a studio swapping program for young artists from London and Tokyo that was initiated in 2015, based on an idea conceived in collaboration with London-based artists and educators Mark Dunhill and Tamiko O'Brien who form the artist unit Dunhill and O'Brien. As a reciprocal exchange program organized between the University of the Arts London Central Saint Martins and the Associate Studio Program (ASP, started in 2013) at Acme Studios in London, and Tokyo University of the Arts and Youkobo Art Space in Tokyo, characteristic of the program is that it gives young artists who have yet to build a career the chance to experience creative production in a studio overseas.
Report
2017 London/Tokyo Y-AIR Exchange Programme 2017
2014 Artist in residence as opportunities and places for young artists
ーThe possibilities of Y-AIR in a trial between Tokyo and London2014
2017
05.01-06.15 Jean-Baptiste Lagadec
05.01-06.15 Dan Isomura
06.16-07.31 Abbi Jones
06.16-07.31 Mayumi Arai
https://www.instagram.com/london_tokyo_y_air_2017/
2016
05.01-06.15 Sean Lavelle
05.01-06.15 Takashi Horiuchi
06.16-07.31 Eleanor Turnbull
06.16-07.31 Ryunosuke Goji
2015 
05.01-06.12 Lydia Davies
05.01-06.12 Shiori Higashiyama 
06.13-07.24 Chris Ifould
06.13-07.24 Wataru Ozu
===
ArtCamp Dispatch Program
Through cooperation between Youkobo Art Space and various research laboratories of Japan-based art universities, this experimental program dispatches students and artists to ArtCamp, an annual international summer school offering art and design courses organized by the University of west Bohemia in the city of Pilsen, Czech Republic. This program was launched in 2013 following an introduction to the organizers by the EU-Japan Fest Japan Committee. It involves international exchange through creative activities during a three-week stay in Pilsen, an experience that is regarded as a simulation of an AIR intended to challenge participants to communicate in an international setting using English. From 2015, a dispatch of artists who join ArtCamp as course teachers was also initiated. In addition, a feasibility study that evaluates the framework adopted by ArtCamp is being conducted in order to explore possibilities of future cooperative activities. For this reason, leading members of the ArtCamp administrative team were invited to Japan in 2014, while in 2015 a staff member of Youkobo Art Space was dispatched to the University of West Bohemia to undertake a one-month research internship.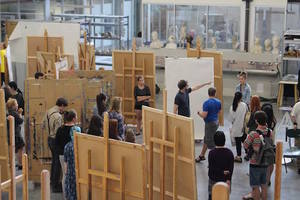 Report
Artist in residence as opportunities and places for young artists
ーThe possibilities of Y-AIR in a trial between Japan and ECoC 2015 Pilsen
Japanese Participation in Czech Republic's ArtCamp
2016
Participants: One student from Tokyo University of the Arts, Joshibi University of Art and Design and Akita University of Art respectively, in addition to one student studying Art Management at Akita University of Art

Course teacher: Kazuhiro Yajima (architect/Japanese tea house in Pilsen)
2015
Participants: One student from Tokyo University of the Arts, Joshibi University of Art and Design, Musashino Art University, Saitama University and Tokyo Zokei university
Course teacher: Machida Kumi (artist/Japanese ink drawing)
Intern: Tsuji Makiko (Youkobo Art Space)
2014
Participants: Four young artists and one student from Tokyo University of the Arts, Joshibi University of Art and Design, Musashino Art University, Tohoku University of Art and Design, and the University of Fukui respectively
2013
Participants: One student from Tokyo University of the Arts
===
Micro and Macro Collaboration:
Internship Program for Art Students
Launched in 2013, this internship program takes place at Youkobo Art Space, and is geared towards both university students of art management and those taking practice-based art courses. In addition to learning about the reality of AIR programs, by giving support to the creative activities of artists while understanding the purpose of their residencies, it is possible for participants to learn about the skills and attitude towards creative production required by professional artists. In addition, in 2015 Youkobo also created opportunities for art university students to join an internship program overseas. In this way Youkobo endeavors to develop means for learning directly in the field beyond the university campus.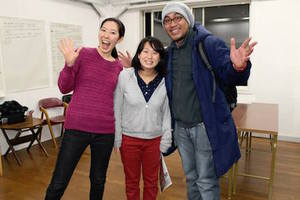 2017
-Sayaka Iijima (@Youkobo Art Space)
-Hatsuho Endo(@Youkobo Art Space)
2016
2015
-Ryusei Akaike(@Youkobo Art Space)
-Makiko Tsuji(@University of West Bohemia)
2014
-Wataru Ozu(@Youkobo Art Space)
-Haruna Kohara(@Youkobo Art Space)
-MakikoTsuji(@Youkobo Art Space)
2013
-Makiko Tsuji(@Youkobo Art Space)
-Haruka Watanabe(@Youkobo Art Space)