2015.06.13 - 2015.07.24
Chris Ifould
[UK]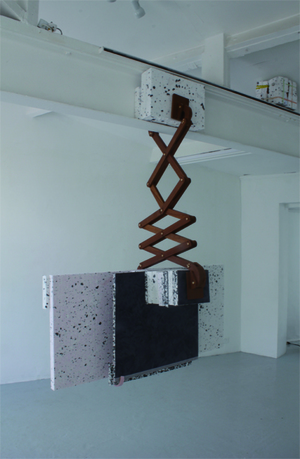 This residency has been realized as part of the London/Tokyo Y-AIR Exchange Program 2015, a trial based on a collaboration between Youkobo Art Space, the No.7 Lab (OJUN lab) of Tokyo University of the Arts, and the Associate Studio Program of Central Saint Martins College, London.
Born 1991, Huddersfield UK. Lives and works in London UK.
Concerned with the design and image of useful objects, the work is informed by the intersection between architecture and the commonplace hardware we design for our surroundings.
Prompted by saturated environments, full of images, tools and needs; by trying to remain resourceful; objects negotiate new uses based not on their primary applications but on their secondary properties. Their incidental but identifying shapes and colors become primary. Using quick interchangeable parts: shapes and gestures can be lent to new possible use and systematization.
Experimentation with gesture and movement has recently been worked through with material weight and balance. The resulting works and images are often mechanical yet static hinting at a possible slip into movement.
During my residency at Youkobo I would like to draw from an unaccustomed cultural landscape. My approach often improvises with techniques to create as a form of whimsical problem solving. I'd therefore like to spend time immersed within new parameters and to have the opportunity to explore a new language of objects and tools perhaps more specific or significant in Japanese culture.
It will be a welcome challenge to approach making work without the habitual modes of making to hand. Having to source new materials and influences means meeting new crafts people, local artists and practitioners.
To visit the Tokyo Geidai University and to be able to see alternative approaches to working and learning models would help me to see a process in a wider context and to test how it can be translated to a new environment.
Events
"Turning Circles" 7.8(Wed)-7.12(Sun)12:00-19:00(last day until 17:00)★Reception7.10(Fri)18:00-