Related Activities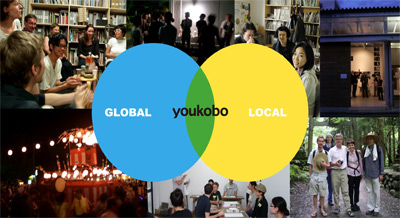 With the conviction that artist-in-residencies (AIR) are a fundamental element in the creative practice of artists, Youkobo Art Space aims to fulfill an important role in society. Pivoting its activities on the AIR program that provides opportunities to artists who wish to stay and produce new work in Japan, Youkobo also considers it an important mission to create opportunities for Japanese artists to undertake creative activities overseas. For this reason, it is working to promote exchange programs with similar international AIR, fostering domestic and international exchange in addition to mutual understanding through dialogue between artists and the local community based on an understanding of the individuality and diversity of artists.
Furthermore, an international launch of the Microresidence Network was achieved in 2012 as a result of Youkobo's long-term efforts as a member of Res Artis, the worldwide network of artist residencies (headquarters based in Holland), followed by participation in AIR Network Japan, a domestic network of AIR, and other efforts to promote this new initiative. Through such activities, Youkobo is working hard to publish collated information that includes the results of surveys and research into the activities of domestic and overseas AIR programs. Since 2013, Youkobo has also developed the Micro (AIR) and Macro (university) Collaboration, an initiative involving domestic and overseas universities and AIR that takes positive steps toward the realization of Y-AIR by giving young artists the opportunity to experience AIR, and developing human resources through internships that provide experiences of AIR management.
Placing importance on preserving networks between the community and other organizations, Youkobo also organizes community art activities, while also establishing a "lounge" where artists in residence, visiting art professionals and members of the community can meet and interact with one another.
⇒ Outline / Archive
>>
Global Internship Program