2016.04.01 - 2016.09.30
Takashi Horiuchi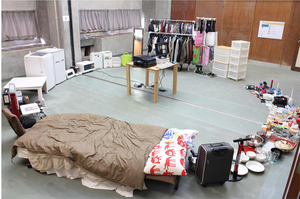 Profile
Takashi Horiuchi (b. 1991, Hokkaido, Japan) is a Japanese artist based in Tokyo. In 2016 he graduated with a Masters in Fine Art (Sculpture) from Tokyo University of the Arts.
His practice explores the possibilities of reconstructing the relationship between the self and the society, choosing the self as the subject matter, particularly through investigating the self as a physical existence and how it could be represented in relation to others, and social environments.
For his graduation work (2016), he brought all his personal belongings --- mostly commercial products---- to the exhibition space, and placed them in the shape of a coin. He placed a computer screen in the middle of the circle that monitored real time in his empty room. Next to it was another monitor showing his recent life as homeless. After the show, he threw away all his belongings, and terminated the rent contract with the landlord. Modeled after Greek philosopher, Diogenes (412-323 bc), he conducted --- and is still conducting today--- a life as a homeless as a means to free himself from social norms and reconsider the relationship of the self in order to seek an alternative way of living an urban life.
Plan
He would like to continue his fieldwork research on a no-income economic minority through experimenting life as a homeless. At the same time, he will continue his practice on multiple media including drawing, sculpture and assemblage inquiring the relationship between art and the capital. He will aim to achieve this combination of real-life documentation and a sociologist-like approach to contemporary issues.