2016.06.16 - 2016.07.31
Eleanor Turnbull
[UK]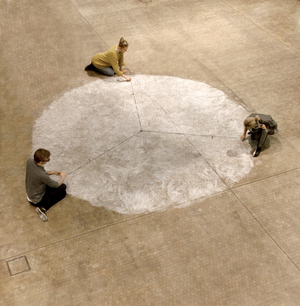 Artist Profile
Eleanor Turnbull (1992) is a visual artist based in London, working with sculpture, drawing and durational performance. She sets herself tasks that allow a material or situation to dictated the form. Marks, scribbles, actions and reactions expose how the world is continually working. Here the artist is a tool; the materials perform:
"Fascinated with the physical world and how it works, I have trained in sculpture ? a medium of material exploration. Through this process I find myself infatuated by the opposite ? the immaterial, the unseen or the forgotten: Walking through the environment, I look for routine moments that fall into the white noise of everyday life. By observing and meticulously recording, they begin to materialise, widening the limits of my material interrogation. "
Residency Plan
My work is about finding a balance between monotony and chaos in a bid make sense of our rapidly changing environments. I see change with more intensity in urban areas and Tokyo will be the densest urban environment that I have experienced. I will be looking for the rhythmic, meditative structures within the chaos of the city or finding the anomalies and disruptions in the routine of everyday life. I seek to materialise certain moments within a city of constant flux.
This residency has been realized as part of the London/Tokyo Y-AIR Exchange Program 2016, a trial based on a collaboration between Youkobo Art Space, Tokyo University of the Arts(OJUN Lab etc), and the Associate Studio Programme of Central Saint Martins College, London.
Events
"How to fill in the time" 20-25 July |Opening Party 20th July 18:00-20:00