1_AIR Exchange Program
While continuing to offer spaces and opportunities to artists who wish to stay, produce and present in Japan, Youkobo has expanded the scope of its activities to include various collaborations with international AIR in order to create opportunities for the dispatch of Japan-based artists who wish to develop their activities overseas. While it would be ideal to be able achieve a mutual balance between the number of artists accepted to the Youkobo AIR program and the numbers of participants in these exchanges, the procurement of funding for such exchanges poses a considerable challenge. To date, we have endeavored to dispatch artists to art and culture events taking place in European Capitals of Culture (ECoC), and likewise invite artists to participate in domestic events. The dispatch and exchange of artists that have been achieved take various forms, developing out of exchanges with newly-established AIR in designated ECoC cities, with AIR that former Youkobo residence artists have made connections with in their home countries following their return, or realized through information-sharing between members of AIR networks, for example.
===
1-1 Reciprocal Artist Exchange Program
Developing out of face-to-face exchanges between individual AIR institutions, Youkobo has begun a series of new artist exchange programs (artist exchanges with microresidencies) that are not limited to big cities but also actively include AIR activities recently seen in ECoC cities that are undergoing post-war reconstruction. Various examples can be given, each taking shape out of different circumstances but often developing naturally out of an artist's experience of staying and producing at Youkobo that grows into a continued reciprocal exchange with a partner institution.
CSM Associate Studio Programme (London), refer to the Y-AIR page

This is a studio swapping program for young artists from London and Tokyo that was initiated in 2015, based on an idea conceived in collaboration with London-based artists and educators Mark Dunhill and Tamiko
O'B
rien who form the artist unit Dunhill and
O'B
rien.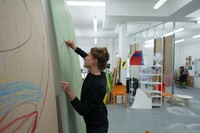 studionAme (Leicester, UK), refer to the Y-AIR page
studionAme in Leicester city, UK was founded by two artists Yuka Namekawa and Steven Allbutt. They organize studio program for local artists and AIR program for international artists. The exchange program between Youkobo and studionAme was started in 2019 under the Toru Namekawa residency programme.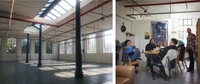 Waria ArtBreak (Ii, Finland), refer to the Y-AIR page.
Waria ArtBreak is a micro residence co-run by sculptor Antti Ylonen and environmental scientist Kaisa Keratar. They are also involved in the management of the Kulttuurikauppila Art Center and the open-air environmental art exhibition Art Ii Biennial in the city. In collaboration with the local University of Lapland and Youkobo and Tokyo University of the Arts (TENKU festival, Tomi City, Nagano Prefecture), a young artist exchange program on the theme of the environment was launched in 2017.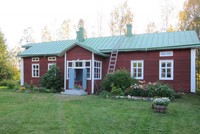 Finnish Artists' Studio Foundation (Helsinki, Finland)
In 2017, Youkobo initiated a reciprocal exchange program with Finnish Artists Studio Foundation (FASF), a non-profit organization offering affordable studios to visual artists in Finland whose headquarters are in Helsinki. the exchange program was realized in collaboration with Tapiola Guest Studio in Espoo City on the outskirts of Helsinki.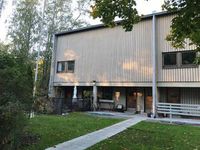 Report
Annexes du Château de Bourglinster (Luxembourg City, Luxembourg)
Acceptance of dispatched artists from the Embassy of Luxembourg and the Ministry of Culture of Luxembourg began in 2011 and continues every year. In 2019, the idea of mutual exchange, which has been a long-cherished desire, has been fulfilling and a dispatch program from Japan is also realized.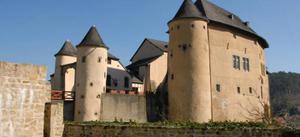 Report
2019 An exchange program between Luxembourg and Japan through AIR programs

2019
07-09 Anne Kagioka Rigoulet
08-09 Franck Miltgen
OPEN A.i.R.(Pilsen, Czech Republic)
The AIR program OPEN AiR in Pilsen, which started in the occasion of the European Capital of Culture 2015 Pilsen.
The exchange program started in 2014 after start of dispatch of young artists to ArtCamp, a summer school of the Faculty of Fine Arts, University of West Bohemia in the city.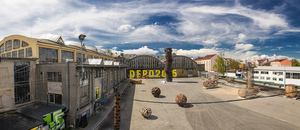 Report
2017 An exchange program between Czech Republic and Japan through AIR programs
2015 AIR Exchange Program European Capital of Culture, ECoC2015 Pilsen
2014 AIR as opportunities and places for young artists ―The possibilities of Y-AIR in a trial between Japan and ECoC 2015 Pilsen

2017
10-01 Vojtěch Domlátil
05-06  Nozomi Watanabe
2015 
10-12  Michal Cáb
06-09 Soichiro Mihara                       

2014
07-08 Kyogo Matsumoto
AIR program that started on the occasion of Kosice, the European Capital of Culture 2013. The exchange program has started with the start of AIR.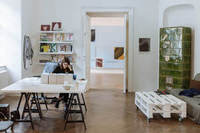 Report
2018 Artist Exchange Program between Youkobo & ECoC, Activity Report Youkobo × KAIR 2018
2016 Artist Exchange Program between Youkobo & ECoC, Activity Report Youkobo × KAIR 2016
2014 AIR Exchange Program between Youkobo & European Capital of Culture, Tokyo × Kosice 2013/2014
2013 AIR Exchange program Tokyo × Kosice 2013 and from now on
2018
12-01 Svetlana Fialova
10-11 Tomoko Hojo
2016
10-11 Radek Brousil
10-11 Hiroe Komai

2016
10-12 Boris Sirk
09-11 Michiko Tsuda
2013
10-12 Manabu Kanai
03-05 Juka Araikawa
01-03 Erik Sille
Kulttuurikauppila(Ii, Finland)
Kulttuurikauppila is an AIR program initiated in 2006 by the local municipality of Ii City and Antti Ylonen, a locally-based artist who was inspired by his experiences of joining the Youkobo Artist Residence Program in 2002. Art Break, a microresidence run by Antti that supplements the activities of Kulttuurikauppila.
07-09 Masami Aihara
2015
    Takumi Kato
04-06 Jaakko Mattila
02-03 Anni Kinnunen
2010 
    Yoshiko Maruyama
04-06 Jaakko Mattila
2006 Masami Aihara

INSTINC(Singapore)
Singapore artist run AIR / INSTINC, director Shin Yun Yao met at a symposium in Taiwan, and started artist exchange program between the two micro residences, INSTINC x Youkobo, from 2013.
2014. 01-02 Chihiro Kabata, Yuuri Kabata
2013. 08   Aya Murakami, Kaoru Murakami
2013. 07   Yeo Shih Yun, Justin Lee
2013. 09   Khairullah Rahim, Ade Putra Safe 
= = =
1-2 Artist Dispatch Program
The experiences of the Youkobo co-director, who had previously created opportunities for artists to join an international sculpture symposium in which she had also participated while at the same time promoting similar opportunities in Japan to artists overseas, formed the starting point for this program. Providing support to the creative activities of artists while at the same time leading to new ideas brought about through the artists' experiences of staying and producing work in a new environment, the outcomes of artist dispatches can be regarded as positive experiences for artists that connect with the creation of a society more open to diversity. From art and culture events taking place at specific sites and for limited periods (triennials, biennales, sculpture symposiums, etc.) to special exchange programs organized by ECoC designated cities, Youkobo accepts a broad range of requests for the dispatch of Japanese artists who are given such opportunities through existing artist networks and public open calls. In addition, Youkobo is also actively working to discover and recommend artists who are autonomously developing their creative practice.



Sculpture Symposium
・Mimar SinanArt University, Istanvbul, Turkey, dispatch program started 1994
Degirmendere, Marmara, Milas, Ankara, etc.
・Environmental Art Festival in Finland, Oulu, Finland, Program started 1996
Icescape Symposium, Art Ii Biennale、etc.
European Capital of Culture
・2009 Vilnius, Lithuania
 07-09 Rikuya Iwama, Mitsumasa Kadota, Toshiaki Hikosaka and Youkobo Art Space 
 Ay-O and 10 Japanese artists and 8 Lithuanian artists exchange program in Kaunus, Litvania
・2010 Istanbul, Turkey
06-07 Merve Ertufan, Res Artis Award 2010
 Biennial of Young Artists from Europe, BJEM 2009

・2012 Guimarães, Portugal
 10 Mitsumasa Kadota, Art Festival 2012 Guimaraes

・2013 Kosice, Slovakia
 KAIR × Youkobo Artists Exchange Program started 2013
 Juka Araikawa, the first dispatched artists from Japan

・2014 Riga, Latvia
 07 Kazuhiro Yajima, Tsuguo Yanai, the Paper Object Eestival 2014  
 07 Anne Kagioka, Kuldiga Wall Painting Workshop

・2015 Pilsen, Czech Republic
2013/07 Mihoko the first joining ArtCamp, continue annual activities from Japan as Y-AIR
2014/08-09 OPEN A.i.R. x Youkobo Artist Exchange Program started 2014
Kyogo Matsumoto the first dispatched artist from Japan

・2018 Valletta, Malta
 2017/08 Sarah Maria Scicluna, the first acceptance artist from Malta to Youkobo
AIR Network
・Hualien International Art workshop, Hualien, Taiwan by Director Pan Sheau-Shei
2009. 12 Naoko Tamaki, Workshop 2009
2012. 10 Natsumi Sakamoto, Workshop 07
2016. 05-07 Maiko Sugano, The East Coast Land Art Festival, Taiwan
2018. 07-08 Taichi Moriyama, Mipaliw Land Art 2018, Taiwan
・Beijing Studio Center, by Director, Xinxin Guo
2009. 07/08 Chihiro Kabata, Yuri Kabata
・Stiftung Kunstlerdorf Schoppingen, Schoppingen, Germany
・Portland Sculpture and Quarry Trust, UK
2012. 04/05 Masami Aihara, Takahiro Ishii
・World Event Young Artists 2012, Nottingham, UK
2012. 09 Takumi Kato, Manabu Kanai, Naoki Miyasaka
・City & Guilds of London Art School, London