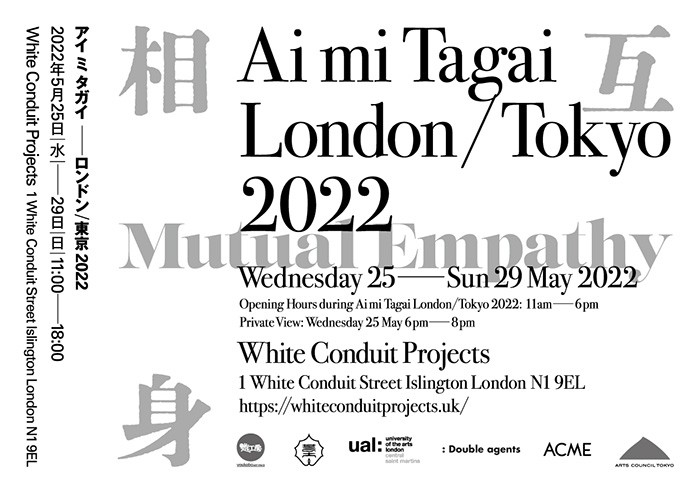 18 artists from those who have experienced or plan to participate in the London / Tokyo Y-AIR exchange program. [Japan, UK ]
2022.05.25 - 2022.05.29
【Title】
Ai mi Tagai London/Tokyo 2022 -mutual empathy-
【Period】
Wednesday 25 - Sun 29 May 2022
【Opening hours during the exhibition】
11am-6pm
【Private View】
Wednesday 25 May
6:00pm - 8:00pm
【Venue】
White Conduit Projects
https://whiteconduitprojects.uk/
1 White Conduit Street Islington London N1 9EL
【Artists】
Daria Blum
Yohei Chimura
Anaïs Comer
Lydia Davies
Nobuyuki Fujiwara
Ryunosuke Goji
Shiori Higashiyama
Takashi Horiuchi
Yuuki Horiuchi
Dan Isomura
Alice Jacobs
Kenta Kawagoe
Jean-Baptiste Lagadec
the Lonely Puddle Collective
Tuli Litvak
Gillies Adamson Semple
Eleanor Turnbull
Hitomi Usui
【Statement】
This is an exhibition organized by LTYE artists from Japan and the UK.
LTYE (London/Tokyo Y-AIR Exchange Programme) since 2015, is an annual three-month studio exchange program for young artists run by Youkobo Art Space, Tokyo University of the Arts, and Central Saint Martins, University of the Arts London (ASP, Associate Studio Programme).
We hold the "Ai mi Tagai London/Tokyo 2022 -mutual empathy-" and a forum with artists who were previous participants and professors who are acting advisors for the program.Taking advantage of the relationships between artists that have been cultivated through past activities, this series of projects has been continued with cooperation. We believe that this is an indispensable attempt for a sustainable society by deepening mutual understanding, cooperation and coexistence between international countries.
・Secretariat
Aimi Tagai Executive Committee, Youkobo Art Space
・Cooperation
Tokyo University of the Arts, University of the Arts London, CSM
・ Support
Arts Council Tokyo

| | |
| --- | --- |
| Date | 2022.05.25 - 2022.05.29 |
| Time | 11:00-18:00 |
| Place | White Conduit Projects, London |