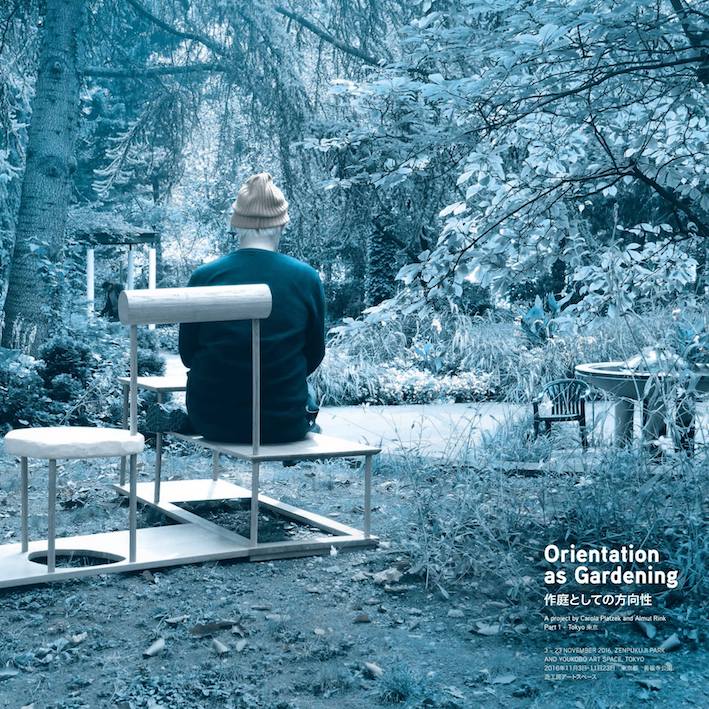 Almut Rink & Carola Platzek [Germany/Austria]
2016.11.03 - 2016.11.23
Orientation as Gardening
In the context of Trolls in the Park, 3 November ? 23 November 2016, Zenpukuji Park and Youkobo Art Space, Tokyo. Orientation allows us a notion of the world around us. "Orientation as Gardening" investigates orientation as an activity, a transition, an experience and not as a given. An active composing (gardening) of being-in-the-world.
A series of arrangements have been developed: Eight Assemblage Boards and eight pieces of text will be installed in the Zenpukuji Park and the gallery of Youkobo Art Space. Based upon classic Shohin displays ? small scale indoor shelves for plants and stones ? the boards have been enlarged to human scale and transferred into public space. Frame and furniture in one, they have been adapted to the specific conditions of their respective environments in the park. These eight sites compose an array of perspectives and represent at the same time an infinite number of possible further options. In addition, eight texts have been developed: From eight different books, one essential word has been filtered and subsequently a poem developed out of it. Only one board at a time will be present in the park. All the parts that are not in use outside, will be stored and displayed in Youkobo Art Space. They are exhibition, archive, and storage at once.
Orientation as Gardening is an arts-based research project by Carola Platzek and Almut Rink at the Academy of Applied Arts in Vienna, funded by the Austrian Science Fund (FWF/PEEK AR 325). In this project we engage with structural questions of order, orientation, composition, and forms of subjectvision.
*We only closed on 14th, 15th and 22nd November.
Youkobo_Catalog_2016_10_Almut Rink & Carola_Platzek.pdf