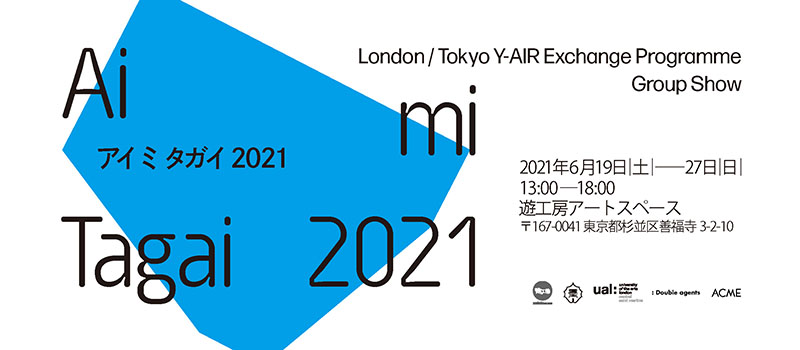 DariaBlum YoheiChimura Anaïs Comer LydiaDavies GrahamEllard&StephenJohnstone NobuyukiFujiwara RyunosukeGoji ShioriHigashiyama TakashiHoriuchi YuukiHoriuchi AliceJacobs KentaKawagoe Jean-BaptisteLagadec TuliLitvak OJUN EleanorTurnbull Hitomi Usui [Japan・England ]
2021.06.19 - 2021.06.27
This is the exhibition organized by LTYE artists from Japan and the UK.
LTYE (London/Tokyo Y-AIR Exchange Programme) since 2015, is an annual three-month studio exchange program for young artists run by Youkobo Art Space, Tokyo University of the Arts, and Central Saint Martins, University of the Arts London (ASP, Associate Studio Programme).
In 2019, the fifth anniversary of the LTYE, we held the "LTYE 5th Anniversary Exhibition - Ai mi Tagai (Tokyo)" and a forum with over 20 artists who were previous participants and professors who are acting advisors for the program.
In 2020, we had planned to hold "Ai mi Tagai (London)" led by Prof. Graham Ellard, but it was postponed due to the effects of the COVID-19.
The planned exhibition at the Lethaby Gallery (on the CSM campus) in London, which was planned for November 2020, has been cancelled. The "Web Project" has begun with the preparation and launch of the Ai mi Tagai Group's exchange and creative activities on the ONLINE under the initiative of the UK side.
This was launched to continue to develop exchanges between artists, even in situations where the decision to postpone exhibitions and studio exchange programs and movements are restricted.
This web project is a new model of international cooperation that takes an advanced approach to the challenges of isolation and movement restrictions. It is composed mainly of a place for autonomous activities of individual artists called "WORK SPACE" and a place for announcing the results of activities called "SHOW SPACE".
It is still in progress.
While the web project is being developed, the three months of April, May, and June 2021, in Youkobo which is the activity studio on the Tokyo side of this activity, in order to explore and continue the physical exhibition that can be realized in the current situation, artists in Tokyo and London have devised multiple exhibition plans under the initiative of the Tokyo artists.
This exhibition has been held following the "Lottery exhibition --Ai mi Tagai 2021 Tokyo" held from April 17th (Sat) to 25th (Sun).
Taking advantage of the relationships between artists that have been cultivated through past activities, this series of projects has been continued with cooperation. We believe that this is an indispensable attempt for a sustainable society by deepening mutual understanding, cooperation and coexistence between international countries.
This exhibition had been postponed as a place to practically express what has been gained through the continuation and trials so far, after the turmoil in the Corona disaster.
And we are looking forward to re-planning and implementing "Ai mi Tagai London Edition" in the near future.
| | |
| --- | --- |
| Date | 2021.06.19 - 2021.06.27 |
| Time | 13:00-18:00 |
| Place | Building -1(1号館), Youkobo Art Space |