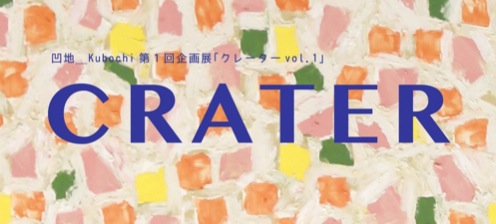 Yuuka Asakura, Mitsumasa Kadota, Akihiko Kuwayama, Maeko Sato,Jaime Humphreys,Sho Takeuchi, Yoko Hiramaru, Misaki Machino, Kaoru Murakami, Yutaka YasudaL   [Japan, UK ]
2014.04.05 - 2014.04.20
We are pleased to announce the next exhibition at Youkobo Art Space.:CRATER vol.1 - The First Kubochi Exhibition."Kubochi"
"Kubochi" (凹地) is a group established by artists who are involved in the creative activities of Youkobo Art Space (Zempukuji, Tokyo). Their first exhibition CRATER vol.1 will be held from April 5 (Sat) to April 20 (Sun).
In the same way that "sunken land" becomes a place where all kinds of things come to gather, "Kubochi" (meaning "sunken ground") aims to invite both local and overseas artists working in numerous genres who have been rigorously selected by Kubochi to come together in events and exhibitions for artists organized by artists. Through creative experiments realized from the unique viewpoints of the participants, and while redefining existing values, Kubochi aims to explore the role and possibilities of art in the area of Zempukuji.
Mitsumasa Kadota, Akihiko Kuwayama, Yoko Hiramaru, Kaoru Murakami, Yutaka Yasuda
CRATER vol.1 ? The First Kubochi Exhibition
In this exhibition, artists active within and outside of "Youkobo" will be invited to show work together. Artists familiar with the space, those showing for the first time, and members of Kubochi; Their bodies and senses released momentarily, they will once be pulled from various angles toward Youkobo in an invited collision. The respective genres of painting, sculpture, video, and installation will crash into one another, the results of which cannot be foreseen. And yet, in the same way that a "crater" leaves a trace, this exhibition is an attempt to excavate the memories of the venue, exposing them to the present.
There will be a talk event with the participating artists and special guests on the opening day. The publication of an anthology of small limited edition works by Kubochi members is also planned for the exhibition.

Events
Talk/Discussion ? "Artists who organize exhibitions" 4.5 (Sat) 17:00~18:00
Opening Reception: 4.5 (Sat) 18:00~20:00