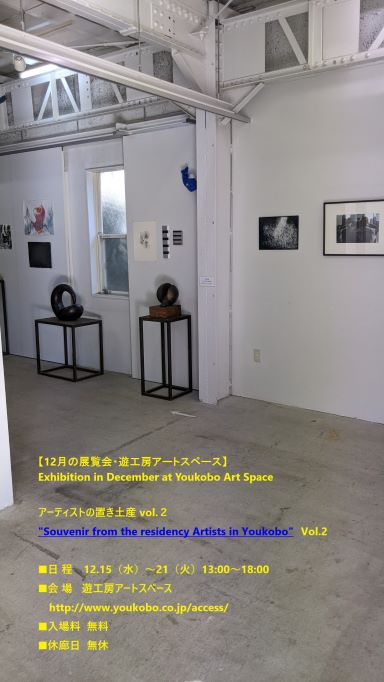 Residents [Japan and others]
2021.12.15 - 2021.12.21
To show the works which gave us as gifts from the residency artists in Youkobo, more than 360 artists since the past 30 years. We would like to spin what the artists who stayed have left behind through art, connections with local artists and peoples, ways of life, ways of thinking, awareness, etc., and we will spin them.
Continuous exhibition vol.2 in December, based on the exhibition of Vol.1, we add the works of local artists who exhibited at Youkobo during the times. We will explore the value of the residence program by considering exchanges and connections between the residency artists and local artists through art and life as the artists.
The exhibition will change day by day during the exhibition period for both Vol.1 and 2.
※ At Youkobo Art Space, we will respond to visitors to prevent infection with the new coronavirus, we apologize for any inconvenience, and thank you for your understanding and cooperation.
| | |
| --- | --- |
| Date | 2021.12.15 - 2021.12.21 |
| Time | 13:00-18:00 |
| Place | Building -1(1号館), Youkobo Art Space |