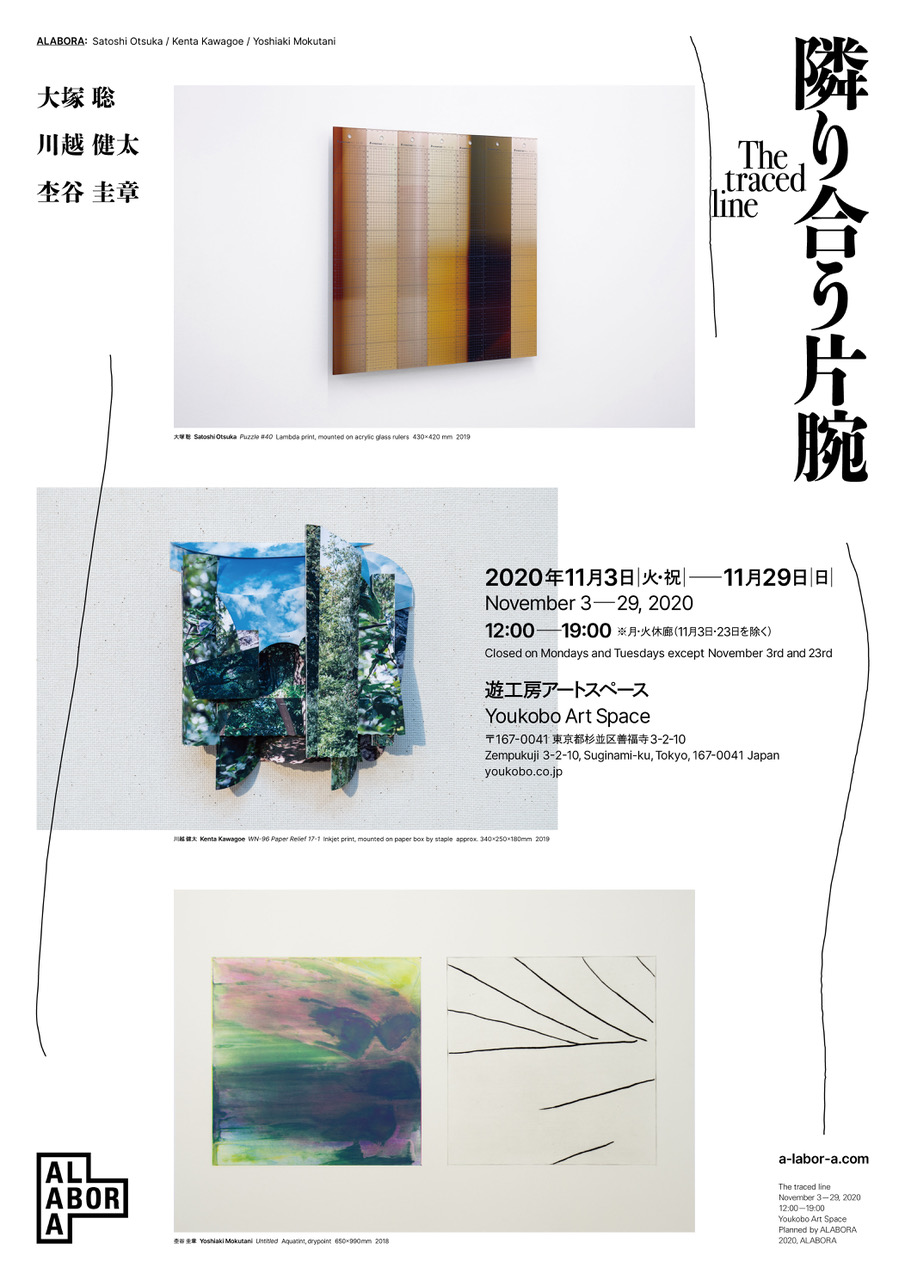 ALABORA: Satoshi Otsuka, Kenta Kawagoe, Yoshiaki Mokutani [Japan]
2020.11.03 - 2020.11.29
ALABORA was established in 2020 by Satoshi Otsuka, Kenta Kawagoe, and Yoshiaki Mokutani in order to publicize their experimental activities and presentations through media as well as share their interests and activities among them. Each of the artists has challenged status-quo and focused on his own activities. This exhibition attempts to give us an abstract outline of the activities.
Satoshi Otsuka deals with transparent/reflective materials such as glass and mirrors. He finds similar properties in photographs and videos, and demonstrates that our sight or the landscape we see are broadening through his creativity.
Kenta Kawagoe is interested in the latent structure of photographs and paintings, reconsiders these elements as clues for his sculptural processes, and attempts to integrate photographs from fragmentation to pluralism.
Yoshiaki Mokutani, who utilizes the characteristics of printmaking, takes an experimental approach to visualize the scene in front of us by decomposing it into basic elements such as colors and lines.
Once we abstract the approach to each material and the uniqueness of the technology used, we can see an antagonism between so-called modularity and the moments that are going to override it the characteristics of the medium and intend to establish a logical structure to operate such elements in their art works with a discipline or reversible comprehension.
In the exhibition, you will be able to identify a common theme that each of the three artists pursues in different ways to materialize their art works.
* Please cover your month with a mask. Please refrain from visiting us if you feel sick or have a fever.
2021_ALABORA_The-traced-line_DocumentBook.pdf