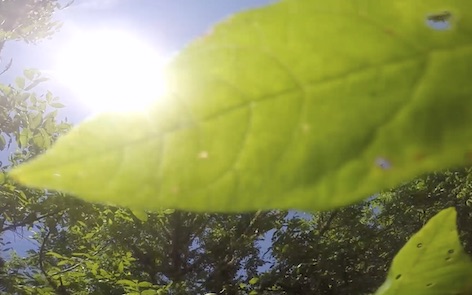 Naomi Reis [USA/Japan]
2017.01.21 - 2017.01.29
A visual diary of vernacular views observed during one cycle around the sun (December 20, 2015-December 20, 2016) in video, photography and mixed-media paintings. Made in the year following the loss of a loved one, the simple act of walking, observing and recording became a means to process grief?a reminder of the strangeness of being alive while struggling to understand the permanent absence of another. What follows is a personal map of the human psyche told through landscape, a genre that has captured the zeitgeist of its time throughout history on both sides of the globe.
New videos explore the dichotomy of an earthbound point-of-view versus sky-bound. One enters the gallery by stepping into a projection of Walking Diary (Tokyo, Yokohama), 60 first-person-view 20-second iPhone clips taken while walking through a city, shown in chronological sequence. The handheld footage records the world from a few feet off the ground as the body moves through space to the rhythmic tapping of footsteps. A simple statement about the deterministic act of continual movement through space, the repetition of steps becomes a meditative exercise about moving toward the future in uncertain times. Destabilized Landscape* was shot mostly via a camera attached to helium balloons and flown over Eastern Oregon. The resulting footage relinquishes control to the unpredictable path of the wind, leaving the body behind to become a hovering consciousness above the earth with an unsteady horizon line.
Back on the ground, photographs of urban views (ivy growing on a concrete wall; weeds pushing through asphalt; the grids found in street pavements and utility covers) have been translated via digital printing and collage into the low-tech materials of paper, paint and fabric. Through the repetitive act of manual labor, brief moments of observation are transformed into matter, stretching time to re-occupy space. The works document moments of wonder and beauty found in everyday public spaces: readymade still lifes take on metaphorical significance, at times reading like figures or nearly-legible Japanese characters.
A small book of 90 photographs taken on an iPhone 6 will accompany the exhibition.
*made with the generous support of the artist Julia Oldham, Eric Corwin and Opossum House Residency in Eugene, OR (May 2016)
Youkobo_Catalog_2016_12_Naomi_Reis.pdf
Events
Reception:21 January 18:00-
Live performance @ Studio2 21 January 19:00-