2019.05.01 - 2019.05.31
Jyrki Heikkinen
[Finland ]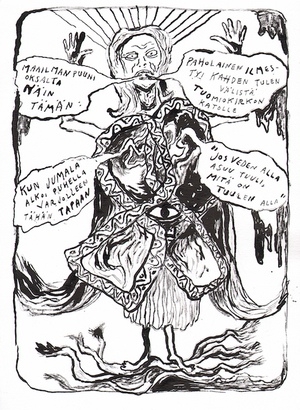 Jyrki Heikkinen is a Finnish poet, graphic novel artist, and illustrator. His work connects fragments, different realities and time levels to be conjoined on a slanted horizon with the dualism between chaos and order. Even though his poetry and images carry a narrative, it is not an intrinsic value. What is more important are the feelings risen, echoes of the dreams and paths that do not lead to anything or anywhere. Just like the artist searches for a way for words and lines to escape, they know that isolation is a part of people and humanity. Heikkinen searches for the familiar flashes that are in hiding, yet continue to whirl within the cycles of everyday rhythms.
During the Youkobo Art Space residency Heikkinen will start his work with the last part of his poetry trilogy. Here, he will research and draw temples, places of worship, and sketch traditional and modern day Tokyo. From these sketches, the upcoming book's aesthetic, poetic structure and voice will be born. Like the previous works, this next piece will also be drawn as this medium brings to the lines a sense of awareness to the moment.
Over the past ten years, Heikkinen's visual poetry project has been developing through the forms of images, comics, poetry, exhibitions and publications. He continues to research the connection and separation between images and words, how they fit together in time and how different mediums affect the final work.
| | |
| --- | --- |
| Date | 2019.05.01 - 2019.05.31 |
| Place | Residence 3 |