2017.06.15 - 2017.07.31
Abbi Jones
[UK]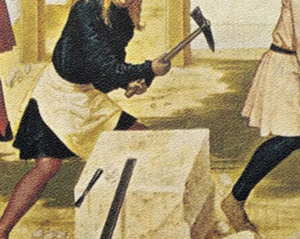 Profile:
Abbi Jones is a British artist and archaeologist based in London whose practice combines interdisciplinary methods of working and display, creating installations of various materials. Her work engages viewer's visual senses to material qualities by assemblage of media, attempting to stimulate spontaneous narratives that can arrive between works.
Operating her practice in art and archaeology, Abbi explores within these spheres by playing both the finder and creator. She works towards forming contemporary art works that speak to ancient artefacts, containing interrelated themes around craft, construction, excavation and the performance of labour. Her interests also lie in the ground, the clay, stone and chalk: solid materials that allow for creating the man-made things we engage with.
After graduating from Central Saint Martins in 2015, Abbi was awarded a two-year studio space on the Associate Studio Programme in London by Double Agents and Acme Studios. Since university Abbi trained as an archaeologist with MOLA.

Residency Plan:
During her residency at Youkobo art space, Abbi plans to open up dialogues around cross-cultural values concerning both preservation and modernisation. Taking daily walks around Tokyo, she will collect visual, written and physical material to play with back at the studio.
She intends to explore modernisation through her experience of being in Japan. This will coincide with historical reading and research trips made to museums and sites specific to Japanese archaeology and cultural heritage.
Abbi aims to begin by producing works on Japanese paper, as her practice incorporates the use of speciality paper, and later moving into sculpture and installation once explorations become more directed.