2017.04.01 - 2017.04.30
Espen Iden
[Norway]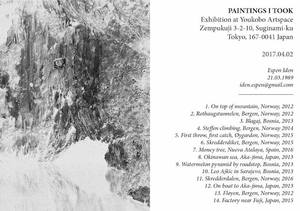 Profile
Espen Iden (b.1989) is interdisciplinary artist from Bergen, Norway. He works with photography, painting, digital collage and book making, and explores the realm of conceptual art as a curator and an art teacher. Themes important to his practice include: Occultism, individual perception of nature's workings, as well as the peripheries and intersections between painting and photography.
New Project
In this one-day-only event, Iden invites you to the exhibition "Paintings I took". Ongoing since 2013, it is a photographic search for landscape, still and abstract motives; a search for the painteresque. This exhibition leads up to his artist-in-residency at Youkobo Art Space, where he will work on a project entitled "Photographs I painted". The title appeared in 2016, and refers to the artist's intent of painting what he has already captured. This is Iden's first true venture into the art of painting, a craft that had seemed unattainable to him since childhood. Both of these projects are explorations of photography and painting, and the ways in which the two mediums can inspire each other's creation.
At the end of April 2017, Iden will have another exhibition portraying the paintings he makes during the residency.
Events
4/2 14:00-20:00 1day event "Paintings I took"