2016.03.02 - 2016.03.30
Ting Chaong Wen
[Taiwan]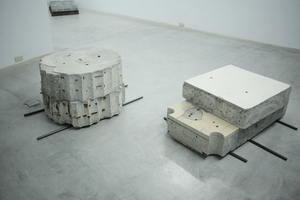 Ting Chaong-Wen is interested in the composition of memory, His works always present the measurement of local histories and cultural links. For the residency at Youkobo he would like to explore the phenomenon of reminiscence and individual experience in the Nishi-ogikubo area.
"I think about how materials can disrupt the flow to a made-up storyline, or to break the boundaries between different annotations of history. The artwork does not tell the story actively-rather, the story exists in every part of the artwork when displayed. Each object is an unique script, containing clues from a variety of subjects (art, industry, urban planning, politics, and economy). The inherent qualities of the artwork become a means to convey. No proposition or critique of history is made, and no borrowed or transference of definition is suggested through the artwork. Instead, the composition within materials directly references spirituality and culture, whereas the artwork introduces elements of uncertainty, unpredictability, and fluidity to the material."
Born in 1979, living and working in Taichung, Taiwan. Ting is an installation artist and a visual designer. His artworks are often inspired by his own experiences and often include ready-made objects, which through the context of a particular exhibition, become part of a particular historical narrative. Thus artist deconstructs, interprets, and reinterprets our shared history in surprising and innovate ways. He examines dominant values, historical conflicts such as colonialism, migration, and cultural collective memory and their cross-border existence.
Recent exhibitions include DICHOTOMIA, 107 Gallery, Taichung, 2016; NAKANOJO BIENNALE 2015, Tomizawa House, Gunma, 2015; SPECULATIVE DUST, Corner Art Space, Seoul, 2015; LIGHT INTERDICTION, PS ART SPACE, Fremantle, 2015; Retina of the Unconscious, inCube Arts SPACE, New York, 2015. His artist-in-residence projects include Seoul Art Space, Geumcheon, 2015; Artspace, Sydney, 2014; Shiro Oni Studio Arts Residency Program, Japan, 2014; Asialink's Arts Residency Program, Fremantle, 2014; S-AIR Artist-In-Residence Programme /Sapporo2™ Project, Sapporo, 2013; Cité Internationale des Arts, Paris, 2010.