2020.12.03 - 2021.02.28
Utako Shindo 
[Japan]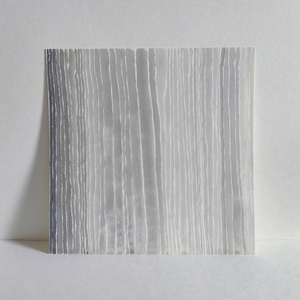 ARTIST PROFILE:
Born in Tokyo, 1980, Utako Shindo is an artist, who works internationally in scholarly and studio pursuit of the untranslatability of art. Her recent works focus on 'nuanced shadow' that appears in shade/light (noh-tan) and line as it 'transfers' (utsuru in Japanese, indicating variants on transfer: trace, reflect, project and emerge) between darkness and light.
Completed her BFA (Drawing Major, 2005) and MFA (by Research, 2008) at Victorian College of the Arts, Shindo has actively exhibited her installation artworks, comprised of drawing, print, photography and video, in both Japan and Australia. In collaboration with artists and curators from both countries, she undertook the multifaceted Immanent Landscape Project (2010-2012) that involved residencies and exhibitions. Her interdisciplinary Ph.D. project (2013-2017) through the University of Melbourne's Centre for Ideas, VCA&MCM, investigated how an artwork can embody 'the untranslatable'. Through her yearlong research and creative project (2019-2020) in New Mexico, the U.S.A., with fellowship support from Agency of Cultural Affairs, Japan, she sought a deeper understanding of Agnes Martin's 'abstract expression'.
RESIDENCY PLAN:
During my three-months studio residency in Youkobo, I intend to further develop my on-going research and creative works inspired by Agnes Martin's art, continuing from my fellowship project last year in the U.S.A. and follow-up exploration this year in Japan. These works will be completed in a form of drawing series, and presented in the exhibition, Forever Tide (working-title), at the end.
As suggested in Martin's writing, "My interest is in experience that is wordless and silent…", every work of hers that I visited across the U.S.A. appeared to be filling an audience's heart with quiet pleasure, inviting us to the meditative time and space. How could she accomplish such a work of art…? In Santa Fe, I was immersed in the millie, where the sky's colors oscillates, the mountains' contours wave, and the artists remember their friend, Aggie, lovingly. Things I wondered, felt and gained there are carried on to my life back in Tokyo, ever meaningfully in the time of the COVID-19. They have led me to re-engage with the Eastern thoughts and aesthetics that she highly regarded as well as Drawing, the starting point of my art practice. In the rays of the sun slowly crossing the Youkobo Art Space, whose presence is unchanging, I will put my heart into drawing each line, a line of eternal shadow.

I would like to thank Youkobo for supporting this opportunity and welcoming my return to their space where I was a gallery resident, then a staff member in the early 2010s.