2017.09.01 - 2017.09.30
André Dubois
[Canada]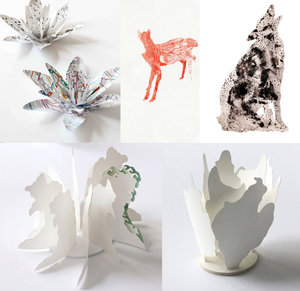 Profile:
Born in Québec City in 1963, André Dubois uses everyday materials as ingredients that trigger his inspiration. His past career in graphic design and advertising brings a special light to his work. Questioning consumer society in a poetic and particularly playful approach, light is a recurring element on his work. For more than fifteen years, André Dubois' work has been exhibited in several galleries and museums, including the National Museum of Fine Arts in Quebec, the Musée de la civilization à Quebec, Museum of Contemporary Art in Baie-Saint-Paul, the Museum of Illustration in New York, the Toronto International Art Fair, the Nancy Margolis Gallery of New York, Art Mûr gallery and the Centre for Sustainable Development in Montreal. He is currently working on his fourth public art project. He works and lives in a suburb of Montreal.
Residency Plan:
The central idea for my Youkobo Artist-in-Residence project captures the essence of a garden. This cultivated garden will be formed from small emerging sculptures in a variety of shapes and positioned on two large tables or on the ground. Each image will be constructed out of paper cuts and will use a mixed medium of paintings, drawings and prints from recycled Tokyo products. Some plant shapes will hang on the wall and play with shadow. I would like to present some water receptacle on the floor, which will reveal lotus flowers sculptures.
One side of each growing paper sculpture will be covered with imagery of Japanese culture, predominantly Tokyo's. The other side will represent Canada's culture, especially Montréal's. The merging of both cultures inspired the title of the project: Montkyo. It signifies the first letters of Montréal (Mont) combined with the ending letters of Tokyo (kyo).
This project will reveal the fundamental sensibility of making art and sharing ideas across cultures. This sculptural project will metaphorically show the importance of taking care of nature and cultivating it wherever you are in the world. It will define a new way of contemplating beauty through the tradition of art making and the tradition of art gardening.