2018.09.06 - 2018.11.29
Kalisolaite Uhila
[NZ]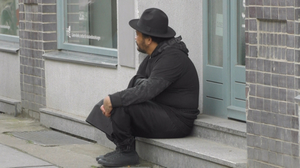 Artist Profile:
Tongan born Kalisolaite Uhila's innovative visual art uses metaphor to express ideas and provoke audience introspection. His experiential performances have involved living rough on the streets of Auckland for three months, and living as a pig in a crate, as well as conducting the waves of the Pacific Ocean from its shore. Through his work he explores cultural, social and political themes such as urban homelessness, and how the ocean can connect people from distant, disparate nations. He has also examined how traditional Tongan notions of the relationship between people and sacred animals, like pigs, intersect with Western ideas. He provokes and challenges audiences to confront prejudices in order to understand works that oscillate between Tongan and Western notions of self, space and time.


Artist Plan:
At Youkobo Art Space, I will be exploring cross-cultural values concerning acts of preservation among diasporas Tongan community currently living in Tokyo. My intention is to open up dialogue around daily routines and how time is used as a Tongan person living in Japan.

Within the residency I plan to research and document historical locations, comprise of many short videos each documenting a performative based action with found materials that focus on the body and the physical working of the material itself. I would be driven by an interest in Performance and Media- based practice, using time space and material investigations in order to provoke discussion and draw out contextual narratives. This will result in conversations about how time is wasted and the ideas will be documented and translated to performances pieces.

The theme Maumau-taimi: Wasting time was a research I started during Master's study and since having had my first residency in Berlin, Germany I have broadened the scope to reach global exploration of diasporas Tongans and how they have adapted to new cultures and environments. This residency will be part of a continuous survey based on Time of how diasporas Tongan live around the world.
| | |
| --- | --- |
| Date | 2018.09.06 - 2018.11.29 |
| Place | AIR-1 |