2017.03.01 - 2017.03.31
Nicola Moss
[Australia ]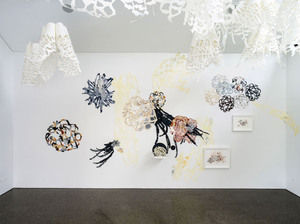 Artist Profile:
Nicola Moss is an Australian visual artist whose practice investigates the value of healthy environment to communities and individuals, by exploring how we connect with and shape green space ecology. Her intricate paper cut work and installations harbor countless stories of place, human interaction and intervention. Employing her practice as a connector occupying spaces between community, interest groups, and culture; Nicola's art resonates with ideas around themes of identity, lifestyle and sustainability.
In 2017, Nicola brings her City and Nature project - a curated ecology, a place where town planning, heritage and personal aesthetic, mixes with maintenance regimes and sense of well-being to Youkobo Art Space to share in the discussion of local/global issues.

Residency Plan:
At Youkobo Art Space, Nicola will explore various urban green spaces and research the '10 year Project for Green Tokyo'. Connecting to place through community engagement and on foot documentation processes, utilizing plain air journals, paper cut, photo, and stop motion imagery, encapsulating embodied experiences of place. In the studio, Nicola will experiment with intersecting cultural experiences and influences of Japanese paper traditions evident in contemporary design, to meld stories of the varied roles of greenery in urban areas. New work developments will culminate in an open studio event.
*The Regional Arts Development Fund is a partnership between the Queensland Government and the City of Gold Coast Council to support local arts and culture in regional Queensland