2021.05.27
'Youkobo Art Space Overlapping Tendencies' Witten by Forde Visser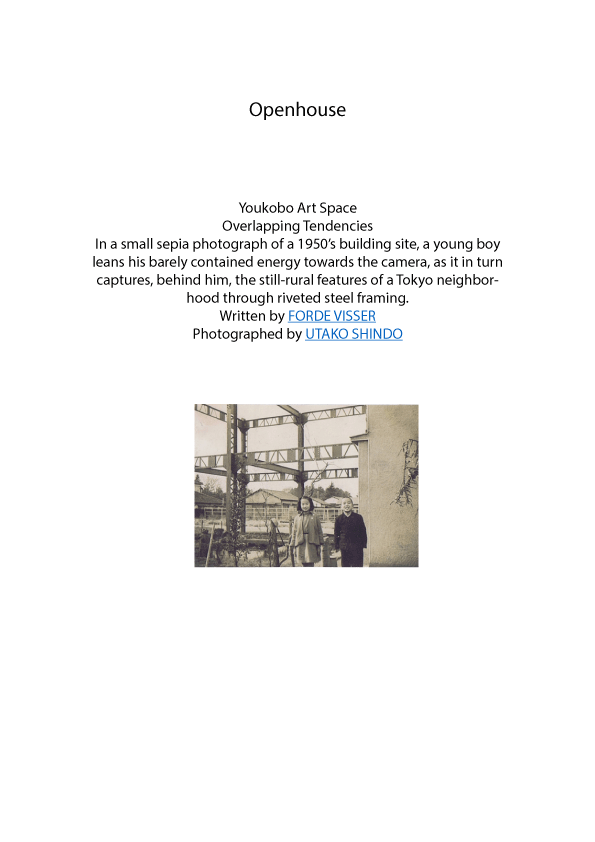 'Youkobo Art Space Overlapping Tendencies'
Witten by Forde Visser

Photography by Utako Shindo
昨年末・12月から今年2月の3か月の遊工房での滞在制作活動を実施した
アーティスト・進藤詩子さんの縁により、実現したものです。
彼女の、2019/20201年にまたがる米国での滞在制・・調査・研究活動時の恩人・
Linda Swansonさん (aka Forde Visser)によるエッセイと、進藤詩子さんのイメージからなる記事をご覧に下さい。
直近の進藤詩子さんの遊工房AIR活動は以下を参照ください。
Today, an essay about Youkobo was published in the latest issue of the Openhouse magazine, EU.
' Youkobo Art Space Overlapping Tendencies'
Witten by Forde Visser
Photography by Utako Shindo
Please Check out her essay by Linda Swanson (aka Forde Visser), her benefactor during research and research activities in the United States over 2019/20201, and an article with an image of Shiko Shindo.
Please refer to the following for the latest Youkobo AIR activities of Utako Shindo.

About Linda Swanson as Forda Visser