2013.09.11
AIRs vol.4 Open talk about Artist in Residence 2013.9.7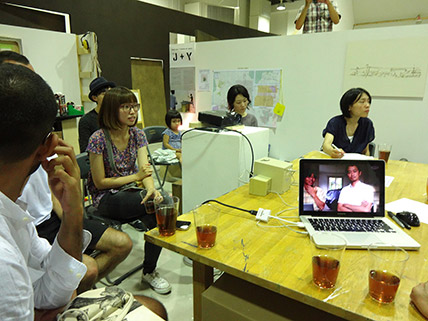 AIRs-ほんとうのはなし#1302 Utipiana@スイス・ジュネーブ⇔遊工房アートスペース@横浜HHS
開催日時:2013.9.7(土)13:00-15:00 会場:新港区ハンマーヘッドスタジオ(以下HHS)B16     (Studio Jean+ Youkobo Art Space/横浜)
参加者:・Utopiana:Anna Barseghian(創設者・代表) 滞在作家2名:もうひとり(小野環、三上清仁)・遊工房アートスペース:村田達彦、弘子(共同代表)、滞在作家3名:Ade Putra Safe,Kahirullah Rahim(シンガポール)、Arnaud Gallizia (フランス)・StudioJean:松本恭吾(代表)、木村宗平ゲスト参加者:江原彩子、村上綾、江間、他2名計12名
はじめに、skypeイメージを通し、ジュネーブから、Utopiana参加者紹介、施設内部から、庭まで、HHSから参加者と、HHSのスペースを生中継で紹介。その後は、音声のみでの対話となった。遊工房アートスペースと同様、住宅地にある一軒家を使って設立されたユートピアナからは、スイスを含む、空きスペースのスクワッドの歴史、ジュネーブの環境、庭の維持管理の地元コミュイティの参加など興味深いお話の後、1か月滞在の成果を伺った。アルプス氷河の変化、雑草のパイオニア種(セイタカアワダチソウの類)のことなど、環境変化の話をテーマに取組んでいるとのこと。滞在中に強行軍のスケジュールで、ベネチィア・ビエンアーレ行きの話、物価高のスイスの自炊生活など興味尽きない。最後に、アルメニア人である創設者Annaさんから、設立主旨、その後の展開などを伺い、遊工房の概要、マイクロレジデンスの活動などの情報交換をし、引き続き協力関係を模索することとなった。遊工房には2014年2月アルメニアからのマイクロレジデンス実践者の受入を計画している。
ユートピアナ URL:www.utopiana.ch

Open Talk About AIR #1302
Utipiana@ Geneva, Switzerland + Youkobo Art Space@Hammer Head Studio, Yokohama
Date:2013.9.7(Sat) 13:00-15:00 
Venue:Shinminatoku Hammer Head Studio (HHS) B16
(Studio Jean+ Youkobo Art Space/Yokohama)
Participants:・Utopiana:Anna Barseghian(Director, Founder)Resident Artists:Mou Hitori(Tamaki Ono, Kiyohito Mikami)・Youkobo Art Space: Tatsuhiko and Hiroko Murata(co-directors) Resident Artists:Ade Putra Safe、Kahirullah Rahim(Singapore), Arnaud Gallizia (France)・Studio Jean:Kyougo Matsumoto, Sohei Kimura・Guests: Ayako Ehara, Aya Murakami + others       Total 12 people
As part of the regular events held at HHS, Yokohama, Youkobo Art Space joined via skype with artist unit "Mouhitori", who were joining a 1 month residency at "Utopiana", a residency based in a residential area of Geneva, Switzerland, the two artists Tamaki Ono and Kiyohito Mikami speaking directly of their experiences. While in the final 10 minutes Utopiana's director, Anna Barseghian, also joined the conversation, sharing further details about the residence and highlighting the similarities in scale and context of both residencies.
The session began with a video tour via skype of both spaces of Utopiana and HHS. Following this the participants entered into dialogue regarding the residence program encompassing topics of the history of squatting, the environment of Geneva and the management of the Utopiana garden through the participation of the local community. This was followed by commentary by the residence artists Tamaki Ono and Kiyohito Mikami on the result of their 1 month stay.
The conversation also extended to issues of climate change and environmental challenges, touching upon melting glaciers and the taking over of weeds like Canada goldenrod. The artists also talked of their trip to the Venice Biennale and the necessities of self-catering in a country with such high prices.
Lastly Anna, the founder of Utopiana, who is originally from Armenia, explained the development of the art space since its establishment, while Youkobo shared its own progress and introduced the activities surrounding its microresidence research. In fact by coincidence Youkobo is planning to welcome an artist to its space in February 2014.