2019.06.04 - 2019.07.31
Mia Cabalfin and Rhosam Prudenciado Jr.,
[Philippines]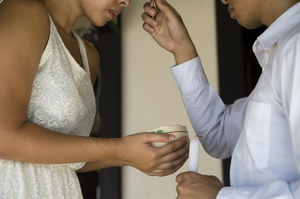 Mia Cabalfin and Rhosam Prudenciado Jr. are dancers and choreographers based in Manila, Philippines. Having had individual dance careers, they made the decision to work together in 2012 in Kyoto Art Center as Artists-in-Residence. After embarking on duet work, they are one of the few in contemporary dance in the Philippines to consciously create a body of work as a duo. Their art, which resonates with socio-psychological themes has deviated from the traditional theater space as they continue to explore site-specific work, multimedia, and movement experimentation.
At Youkobo Art Space, the objective is to start to create a multi-disciplinary performance piece entitled "Pahayag" (Expression). Their initial jump-off point is the theme of population; with a distinct difference between Japan's dwindling population versus the over-population of the Philippines and the correlation with other cultural aspects, such as expressiveness, interaction, and communication translated into the performing body. The plan is to create and perform this piece in an open studio event, ascribing to the duo's practice of exploration of a non-proscenium dance space.
*Supported by Japan Foundation Manila and National Commission for Culture and the Arts