2018.04.01 - 2018.04.14
Calum F. Kerr & Miyuki Kasahara
[UK, Japan]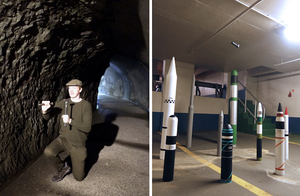 Artist profile:
Calum F. Kerr (born London 1975) is an artist whose work is expressed through performance, sculpture and sound. His projects are often in relation to specific locations and inhabiting of characters such as J. D. Swann (ornithological investigator), Brian Guest (S.P.A.R: Society for the Preservation of Admirable Rubble), Sirius the Dog, a Ghostly White Whale and Maurice the Dodo. He has performed recently in Liminality (The Unknown), Gallery 46 with Flange Zoo and at numerous exhibitions in the UK including at the ICA and Tate Britain, and internationally in Bulgaria, France, Germany, The Netherlands, Portugal, Spain and the USA.
In 2016/17 he received an Arts Council England International Development award for research and travel to Japan for the project 'Calum's Road to Aonodomon'.
Miyuki Kasahara graduated with an MA from the Royal College of Art and is based in London.
Solo Exhibitions include Red is beautiful, The Stone Space, London (2017) and Trigger, Art Gallery X, Tokyo Takashimaya,Tokyo (2007). Group Exhibitions include Radical Love, The Crypt Gallery, London (2017), Beyond Words,Milton's Cottage, Buckinghamshire (2016), Now Play This, Somerset House, London (2016) and Unconfined, The Cultural Centre of The Municipality of Athens (2009).
Residencies include DeCentreDerSpace in Marseille-Provence (2013) and Hackney Museum (2010). Her ongoing project His/her personal sky received Best Performance Award at Peckham Open 2012 and was commissioned for Emergency 2012 Manchester.
Commissions include Waving Goodbye?, Margate Festival 2017, Settlement Trail (1884 - 2014), Camberwell Arts Festival 2014, Journey of the London Eel, Wandsworth Arts Festival 2012, Linking the Paper Chain, Hackney Museum 2010 and Message to me 2012, Shoreditch Festival 2008 & 2012 which received The Great Britain SASAKAWA Foundation Award.

Short summary of residence plan:
Calum will use the time at Youkobo to consider historical, cultural relationships between Kyushu and Tokyo. This is in relation to his 'Calum's Road to Aonodomon' project. In 2017 Calum travelled to the Aonodomon Tunnel which was chiselled through the Yabakei Gorge by Zenkai, an 18th Century monk trying to stop local villagers falling to their deaths using chain bridges. Calum experienced the sounds carried through the tunnel; and elsewhere a fire festival at a temple near Saitama; on this occasion he will be exploring further the Asakusa district (Tokyo) where Zenkai was born. This research in Japan is the next stage of a project that began on 20 September 2015 in Scotland. He travelled from London to the Isle of Raasay in the Inner Hebrides to find 'Calum's Road'. Calum Macleod (1911-1988) a crofter, lighthouse-keeper and Gaelic poet, who constructed a 1.5 mile stone road almost entirely by himself between 1964 and 1974. Macloed wanted to unite parts of the island long neglected by the Highland Council. Both the Scottish and Japanese figures; Calum MacLeod and Monk Zenkai have much in common, social responsibility, a long durational quest, an almost mythical endeavour, Calum will be comparing these figures through his work using the film and sound recorded there.
Miyuki's research examines the factors affecting the global environment, including that arising from politics and societal change. During her stay at Youkobo she will address the historical anti-nuclear movement and ongoing nuclear issues in Japan.
The first research will be the hidden history of Suginami-ku - the large petition campaign against Atomic and Hydrogen Bomb in 1954 started from and led by those in Suginami-ku. The campaign eventually collected 32,590,907 signatures in all Japan and led to the first World Conference against Atomic and Hydrogen Bombs held in Hiroshima, 1955. It was triggered after a Japanese tuna fisherman boat Daigo Fukuryū Maru was contaminated by nuclear fallout from the US Castle Bravo hydrogen bomb test on Bikini Atoll on 1 March 1954.
Looking at a more recent issue, the Fukushima Disaster. Since April is the cherry blossom season, Miyuki is going to visit the Yonomori cherry blossoms located in Tomioka town in Fukushima, one of the longest and the most beautiful cherry blossom tree tunnels in Japan. Last year the tunnel was lit for 16 days from 1 April welcoming visitors for the first time since 2011. In reality, although the length of the tunnel is 2.2km long, only 300 metres can be entered due to the high dose of radiation further on. The Tomioka government announced as their cleanup efforts have concluded that residents could return home from 1 April 2017.

Events
Exhibition:4/13 (fri) 14:00-19:00